Don't  Pop That Achilles Crossfitters! 13.2 Words of Wisdom
Open 13.2 is a fast and furious workout that can leave you open to injury. Prep properly this weekend!
The Crossfit Open is a call to all Crossfitters to challenge their fitness levels and compare themselves to the best athletes around the world. With that being said, it's safe to say that we are not all in the same class as Rich Froning, Annie Thorisdotter, and company where our livlihood is dependent on your Games performance. I may get some bad feedback from some people in the Crossfit community for this, but I have to say what is right from my perspective as a health care practitioner.
Let's take a look at 13.2:
Complete as many rounds and reps as possible in 10 minutes of: 

115 pound Shoulder to overhead, 5 reps
115 pound Deadlift, 10 reps
15 Box jumps, 24″ box 
On the surface it looks pretty tame. It's a manageable weight for most people to go overhead for 5 reps, and it's a very light weight for a deadlift at 10 reps. It's really the box jumps that concern me this week.
Most Crossfitters take the approach of bounding up and down off the box in a plyometric fashion. It's certainly the fastest way to progress through the reps, so if you are one of the handful of people serious about getting into Regionals, then maybe this is right for you.
Now for the 95% of us who are doing this for fun, and Regionals isn't even in the back of our mind, please read on.
Here's the problem. Large volume of box jumps can put a tremendous amount of strain on the achilles tendon. If you don't  believe me, just google the terms "Crossfit and box jumps and achilles". In fact, several of the open WoDs from years passed have all seen spikes in achilles tendon injuries following a high volume box jump WoD.
Does that mean Box Jumps are a bad exercise?
No! Box jumps are great! They develop power in your lower extremities, make you more explosive, and add a great cardiovascular dimension to any WOD.
The problem is that our achilles tendon and our knees aren't structured to handle sheer volume of that high impact/bounding movement. They were meant for powerful short burst movements.
First, here are ways to save your achilles from the box jump:
1. STEP DOWN FROM THE BOX – if it's good enough for Julie Foucher, a future medical doctor and well known Crossfit machine, then it's good enough for you. Watch how she did the WOD and you will see that she stepped down for every rep.
2. Warm up your calf and achilles thoroughly. Heel/toe rocking and stretching the achilles on the wall are important warm up routines for any plyometric routine.
3. Land with your feet flush on the box. Read about it here.
Second, check out this video by crossfitmobility.com for some strategy and mobility techniques to help prep your body for this burner.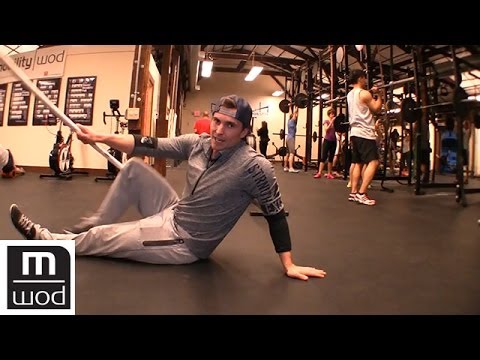 Have a great WOD everyone, and most importantly, stay safe. Just remember this:
You will never remember that you placed 1000 in the world at Crossfit, but you will never forget that time when you couldn't WOD for 3 months.